It's colour riot time, folks! This time around, think out of the box. Beyond the apartment bylanes and over the office terraces. Go visiting some the best locales when it comes to Holi. "Best" of course is a relative term and completely depends on the kind of experience you want to have. From simplistic temple rituals dating back centuries to modern takes on the ancient festival, there's a lot to choose from. Here's our pick of the Top 5 Destinations to play Holi in India.
1. For the traditional outburst: Mathura and Vrindavan
Holi is not a one day celebration here. The veterans sure know how to play it high. It lasts for 40 days in the temple towns of Mathura and Vrindavan. With just four hours from Delhi, isn't it time you started packing? Krishna was born in Mathura and Vrindavan was where he spent his childhood. And it shows. For the last 40 days,
dancers and performers from the rest of the country have come together to put up show like none other.
They are known to depict Krishna's flirtations with the village maidens. Singing troupes are going to perform soulful Holi folk songs as.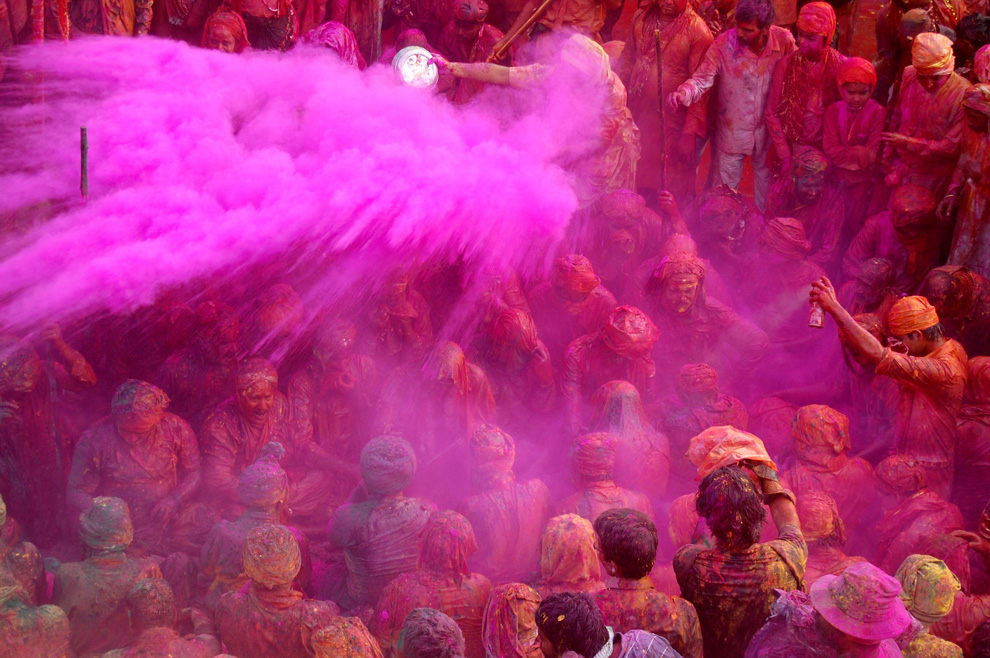 2. A modern alternative: New Delhi
Holi in New Delhi is an intense affair. Specially if you are anywhere close to the Paharganj neighborhood. Expect to be dunked in colour by the roadside shopkeepers and galivanting children. Get hold of tickets to the Holi Cow festival. True to the spirit, it is a festival of colours, rave music and of course, madness. The environment is known to be safe and they specifically use non-toxic colours. And don't forget the
bhang lassis
, lots of food and sprinklers to boot! There will be DJs and local music bands too. Usually attended by lots of expats and locals.
3. The Literary Lineage: Shantiniketan, West Bengal
If you are from Kolkata, head over there like right now! The celebration of Holi is seen as the Vasanta Utsav (or the Spring Festival) in
Shantiniketan
. It was started way back by the Nobel Laureate
Rabindranath Tagore
in his
Vishva Bharati University
. Students don spring colors and put on a huge cultural program for the visitors. I true Bengali spirit, they dance to Tagore's songs. There's the usual throwing of colors, but it is sedate. Almost spiritual. I
t attracts numerous foreign visitors.
4. Of Elephants and Holi: Jaipur
It's time for the mommoths! THe elephant festival kicks off during Holi in Jaipur every year. There's everything you can imagine: parades, elephant beauty contests, colourful folk dances, tug-of-war between elephants, lots of colours thrown about and a huge gathering of locals and foreigners alike.
5. A Tribal Tryst: Banswara
Take in Holi in a whole new light. It's the year's main festival of the aboriginals of the Banswara district of Rajasthan. Traditional dresses will come out, along with swords and sticks. There will be the famed Gair dance. The closest airport is Udaipur, around 165 kilometers away. Or, you can catch a train to Ratlam in Madhya Pradesh, around 80 kilometers away.